Mammadova Shakar Hidayat
Ph.D. in geography, docent/associate professor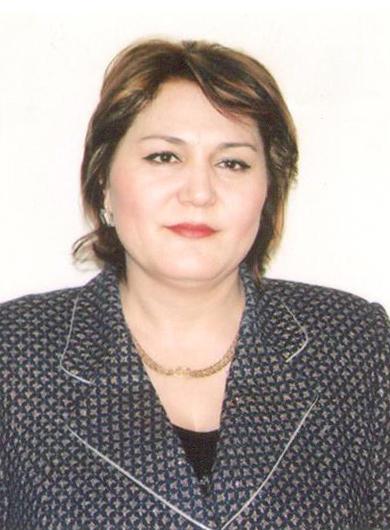 Office phone: +(994) 12 539 04 87

PERSONAL DATA:
Was born in Saral village of Spitak district of Armenian SSR in 1964;
Studied at high school between 1972-1982;
Studied at Baku State University, faculty of Geography-Geology between 1985-1990;
Since 1996 works at the Baku State University – first as a teacher at the department of ecology and then as a senior lecturer and docent/associate professor;
Since 2000 as a deputy dean for graduate education at geography faculty and since 2016 as a dean of geography faculty.
EDUCATION, SCIENTIFIC DEGREE AND TITLES:
1990, Baku State University
1998, « Research and prognosis of anthropogenic pollution of atmosphere in Ganja city and adjacent urban»
2015, The doctoral dissertation - «Ecogeographical problems of air pollution in big cities of Azerbaijan» - has recently been discussed.
WORK EXPIRIENCE:
1990, Senior engineer at the Hydrometeorology Committee of Azerbaijan Republic;
Since 1996 has worked as a teacher, senior lecturer and docent/associate professor at the department of ecology (Environmental protection and sustainable exploitation of natural resources);
Teaches "Biogeography", "Ecology and environmental protection", "Ecology of cities" and "Environmental monitoring systems" courses at the geography faculty;
1998, Ph.D. in geography;
2003, docent/associate professor.
about 80 research papers
RESEARCH INTERESTS:
Ecological problems of cities and prognosis of ecological environment, research of impact of the ecogeographical conditions on the human health in the cities.
LIST OF SELECTED PUBLICATIONS:
1. 2015, Evaluation of Impact of Pollution of the Atmospheric Air on Health of Population in Large Cities of Azerbaijan
2. 2015, Forecasting methods of atmosphere pollution of big cities
3. 2015, Examination of impact of the vehicles in air pollution in Azerbaijan.
4. 2015, Landscape changes in Ganja-Gazakh region as an impact of climate change
5. 2014, Ecogeographical analysis of air pollution in cities of Azerbaijan Republic
6. 2014, Baku city agglomeration and modern state of urban transportation
7. 2014, The problems of Azerbaijan's transport network and its role in the air pollution
8. 2013, The complex indicator of atmospheric pollution in unfavorable meteorological conditions in Azerbaijan
9. 2013, Исследование роли транспортных средств на загрязнении атмосферы в Азербайджане
10. 2013, Исследование промышленных отраслей в городах Азербайджана как источников загрязнения атмосферы
11. 2013, Исследование роли транспортных средств на загрязнении атмосферы в Азербайджане
12. 2013, Use of non-linear regression method in prognosis of air pollution of big cities of Azerbaijan
13. 2012, Харакеристика главных стационарных источников загрязняюших атмосферу в промышленных городов Азербайджана
14. 2012, Role of climate conditions on the air pollution of Baku city
15. 2012, Prognosis of air pollution in several cities of Azerbaijan
16. 2011, Climatic condition of Baku city and its impact on distribution of air pollutants
17. 2011, The characteristics of major stationary air pollution sources in the industrial cities of Azerbaijan
18. 2011, The assessment of physical and economical aspects in the development of cities in Azerbaijan
19. 2010, The analysis of ecological condition of Caspian Sea region (based on Azerbaijan coast)
20. 2010, Energy sources and assessment of their environmental impact
21. 2009, The analysis of modern ecological condition of atmosphere (air quality) in Lankaran city
22. 2009, Modern state of study of anthropogenic impact on air pollution in cities and state of art research in this field
23. 2009, Research of air pollution of Azerbaijan cities
24. 2008, The analysis of extreme air conditions caused by anthropogenic activities in city
25. 2008, The analysis of meteorological conditions causing high air pollution in Baku city
26. 2008, Air pollution of big cities and analysis of its impact on health
27. 2008, Глобальные и региональные проблемы загрязнения и вопросы их охраны
28. 2007, Role of meteorological aspects on the air pollution of big cities of Azerbaijan
29. 2007, Main air pollution sectors within the power/energy industry in Azerbaijan
30. 2007, Some biogeographical aspects of paleo-geographical research studies
31. 2006, Analysis of ecological problems of Kura river and the problem of drinking water
32. 2006, Ecogeographic assessement of air pollution in big cities of Azerbaijan
33. 2005, Landscape characteristics of areas üithin Azerbaijan Republic that Baku-Tbilisi-Ceyhan pipeline passes
34. 2005, Social-economical problems of sustainable land use in the era of modern reforms
35. 2004, Экономическая и экологическая эффективность промытых почв Кур-Аразской низменности
36. 2004, Управления и оценка влияния твердых городских отходов на окружающую среду
37. 2004, Оценка и планирования окружающей среды в Азербайджане
BOOKS:
2012, Sh.A.Ahmadov; Sh.I.Mammadova, Ecological monitoring (university textbook)